Bridgeport, Connecticut Real Estate Law
Edwin P. Farrow, Attorney at Law
Buying or selling property may be one of the largest transactions you'll ever make.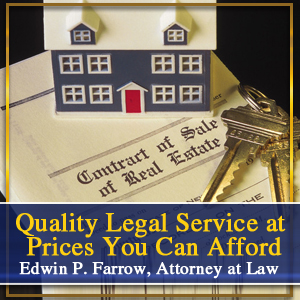 Edwin P. Farrow, Attorney at Law of Bridgeport, Connecticut can help your real estate purchase, sale, or dispute go smoothly
as possible.
Our offices always have your best interests in mind, and we'll work as diligently as needed to reach the best outcome for your real estate transaction. Don't hesitate to give us a call today to schedule your free initial consultation.
Our Real Estate Law Services Include:
Residential and commercial
Property refinancing
Real estate purchasing
Property sales